Air Date: Week of January 18, 2019

stream/download this segment as an MP3 file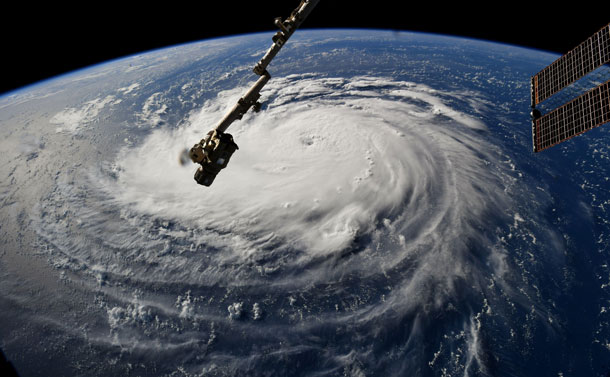 In September 2018 the unusually long duration of Hurricane Florence led to severe flooding in the Carolinas. (Photo: NASA, Wikimedia Commons CC)
New research published in the journal Science finds that our earth's oceans are warming 40 percent faster than the IPCC reported in 2013. This means rising sea levels, stronger, wetter and larger storms, and more intense droughts. Kevin Trenberth, Distinguished Senior Scientist with the National Center for Atmospheric Research in Boulder, CO, talks with Living on Earth Host Steve Curwood about these new scientific findings.
Transcript
BASCOMB: It's Living on Earth, I'm Bobby Bascomb.
CURWOOD: And I'm Steve Curwood.
New research published in Science Magazine finds that the world's oceans are getting warmer at a much faster rate than the Intergovernmental Panel on Climate Change reported back in 2013. This latest research used updated scientific instrumentation and modeling to recalibrate past data. The oceans play a dominant role in the Earth's weather in a number of ways, from brewing storms to creating El Niños. In fact, a mild El Niño likely began in December, and it could bring soaking rains to the California coast while at the same time it worsens drought in Australia, which is now in the grip of an epic heat wave. Warmer oceans lead to bigger, longer and stronger storms and it will take centuries for the seas to cool down even if emissions of heat-trapping gases such as carbon dioxide and methane are eventually reduced. Kevin Trenberth, a Distinguished Senior Scientist with the National Center for Atmospheric Research in Boulder is a co-author of the study. Kevin, thanks for joining us!
TRENBERTH: You're most welcome.
CURWOOD: So Kevin, bottom line is, is that the ocean is getting hotter, some 40% faster than what had been previously thought, huh?
TRENBERTH: That's correct. And especially in recent times. So the main period we talked about in the record in the paper, based upon the IPCC report was from 1971 to 2010. And of course, we can go right up to the present in the new record. And so the record, not only are the values higher, but there's clear evidence of an accelerating rate. So, the oceans are warming faster now than they used to be.
CURWOOD: Faster and faster. What does that mean, in terms of actual temperature rise?
TRENBERTH: A lot of the deep ocean is changing by very small amount, so only a few hundredths of a degree Celsius and so the deep ocean is warming by very tiny amounts. The surface ocean as a whole has warmed by, a little over one degree Fahrenheit, and the air above the oceans has about five to 10% more water vapor. As a consequence of that the air is warmer, and it's moisture. And it's best to think of it that way. Because one degree Fahrenheit produces air that can hold about 4% more moisture on average. And we're finding in general that this five to 10% number is about what we're seeing over the global oceans. So this is what feeds the storms, and leads to immediately a five to 10% increase in rainfall. But that increase in rainfall also means that the heat that went into evaporating the moisture in the first place is released, that heat gets released into the storm, and it can invigorate the storm. And so you can easily double that amount. So it can easily convert into 15 to 20% increase in rainfall. And some of the experiments that have been done using models of different kinds suggest that in the case of Harvey, for instance, that there was about a 30% increase in the rainfall as a consequence of the warming of the oceans and the climate change.
CURWOOD: So where are the temperatures rising the most in the oceans?
TRENBERTH: We have maps of that actually, and some of the biggest warming is occurring over the southern oceans. That's a region where there are strong winds and the heat gets carried down. It's also warming quite substantially throughout much of the Atlantic Ocean, and including the North Atlantic.
CURWOOD: What implications could this dramatic temperature acceleration that you're now able to observe, what does that mean for sea level rise?
TRENBERTH: So sea level has gone up by about 30 millimeters relative to the average, from 1970 to 2010. In recent times, we've had altimeters in space, that are measuring sea level, to millimeter accuracy. And so the rate of increase of sea level is about 3.1 millimeters per year. So if you think of 3.1 millimeters, think of a foot ruler, that's about 30 centimeters. And so this is a little over a foot per century, if you like to think of it that way. That's the current rate of sea level rise. And so we can estimate now how much sea level has risen from the expansion of the ocean.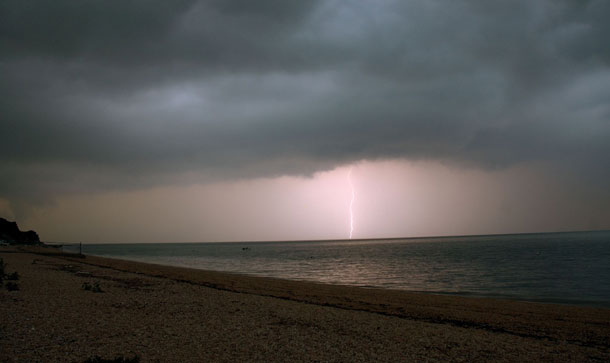 CURWOOD: Gee, a foot per century doesn't sound very bad.
TRENBERTH: That's only a part of the sea level rise overall, of course. The other part, a slightly larger part, is the melting of glaciers and Greenland and Antarctica, which is contributing also to sea level rise. And, so, the total sea level rise is maybe three times that.
CURWOOD: And, now how are these rising ocean temperatures affecting our weather?
TRENBERTH: So some spots of the ocean get warmer than others because of the weather events over the past year. And one of the warmest spots in 2018 was off the coast of the Carolinas, which is where Florence developed. And that led to tremendous flooding and a very slow moving storm that caused a tremendous amount of problems in that area. The previous year, 2017, one of the warmest spots was in the Gulf of Mexico, where Harvey developed and indeed led to tremendous flooding in the Houston area. And we've been able to show indeed, that there's a direct relationship there between the heavy rainfalls and the ocean heat content.
CURWOOD: Whoa, so wait a second, we're talking about in the Paris deal keeping warming below one and a half degrees centigrade. So you know, my math is a little wobbly, but we're talking say two and a half degrees Fahrenheit, 2.7, maybe; we're getting a 15, 20% increase in storm strength, just from that one degree Fahrenheit, what would the world be like if we were to hit that target that's been talked about for Paris?
TRENBERTH: Well, this is indeed, what we're seeing around the world, is that the dry spots, the places where it's dry, things are drying out a little more, increasing the risk of wildfire, but then the moisture that is being evaporated, gets carried around and converges into the locations where the storms form. And so that's a key reason why that amplification occurs; rather than 5% change, you immediately get a 10% change. And then the lifetime of the storm is another key factor and the size of the storm is the other factor that can easily get you up to something like maybe a 30% change when you take all of those factors into account. And so the storms sort of reach out and grab all of the available moisture in the area, bring it into the storm and drop it down in the form of rainfall. And so we've got very good evidence that when it rains, it rains harder. And that's especially true along the east coast, and especially the Northeast.
CURWOOD: Now we have seen the Trump administration shut down the government for extended periods of time. And among other things that have happened in the course of that is that a lot of scientific research has gotten halted and maybe in certain cases information's being lost. How do you think the stuttered financing of our climate research is putting us at risk, especially in terms of climate change?
TRENBERTH: Oh, it's certainly affecting the information flow and putting at risk a lot of observations. NOAA is an extremely important agency in this regard for maintaining the buoys out in the tropical Pacific that track the El Nino phenomenon. And firstly, they are probably not tracking whether the buoys are performing adequately or not. And they're often subject to vandalism and natural problems that occur. And we have no way of tracking whether the information is flowing properly at the moment. There is a small core of people at the Climate Prediction Center and NOAA who are working to put out reports on a weekly basis as to how the current El Nino is developing. I think they're running maybe at about 50% of the people there. But that means the in-depth analyses are not occurring and the ability to fix any problems that occur is certainly not there. So this is quite worrying, because this can have repercussions down the line.
CURWOOD: Yes, as you said, it's been important to go back and look at data that was gathered in different ways and if you have gaps in data that makes things very difficult.
TRENBERTH: Yes, observations that are not taken are lost forever. We cannot go back and redo those.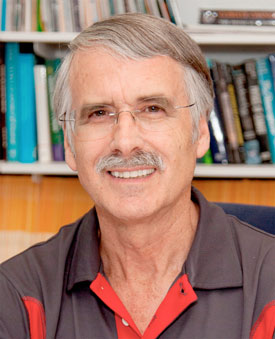 CURWOOD: You've been doing this research for a number of years. How do you feel about what we're seeing now?
TRENBERTH: Well, it's quite worrying. There've been a number of reports that have come out recently, some from the National Climate Assessment in the United States, and also the Intergovernmental Panel on Climate Change, and there's a more complete IPCC report underway as a next major assessment as to what's going on on a worldwide basis. They have been consistently shouting out a warning that we're headed for, potentially an increase of two degrees Celsius, which has been a metric in the Paris Agreement, for instance, saying that we really should not get to that level if we possibly can, in terms of the global mean temperature increases, because going along with that is a whole lot of very disruptive effects and potentially dislodging ecosystems. And there are many consequences that get progressively worse. The sort of things we've already talked about increase substantially. And about that level, food shortages and water shortages could become very widespread. So we need to avoid that if we possibly can. In addition, we need to plan for these things and build resiliency, and we're not really doing enough of either, especially under the Trump administration.
CURWOOD: Kevin Trenberth is a distinguished senior scientist with the National Center for Atmospheric Research. Thanks for taking the time with us today. Kevin.
TRENBERTH: Well, thank you very much for having me.
Living on Earth wants to hear from you!
P.O. Box 990007
Prudential Station
Boston, MA, USA 02199
Telephone: 1-617-287-4121
E-mail: comments@loe.org
Donate to Living on Earth!
Living on Earth is an independent media program and relies entirely on contributions from listeners and institutions supporting public service. Please donate now to preserve an independent environmental voice.
NewsletterLiving on Earth offers a weekly delivery of the show's rundown to your mailbox. Sign up for our newsletter today!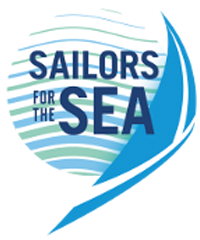 Sailors For The Sea: Be the change you want to sea.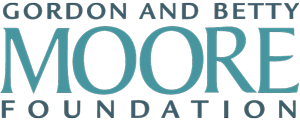 Creating positive outcomes for future generations.

Innovating to make the world a better, more sustainable place to live. Listen to the race to 9 billion

The Grantham Foundation for the Protection of the Environment: Committed to protecting and improving the health of the global environment.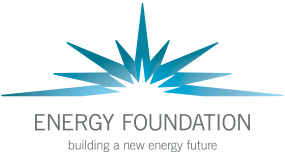 Energy Foundation: Serving the public interest by helping to build a strong, clean energy economy.
Contribute to Living on Earth and receive, as our gift to you, an archival print of one of Mark Seth Lender's extraordinary wildlife photographs. Follow the link to see Mark's current collection of photographs.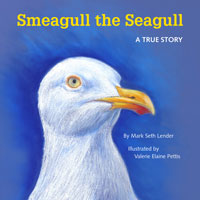 Buy a signed copy of Mark Seth Lender's book Smeagull the Seagull & support Living on Earth